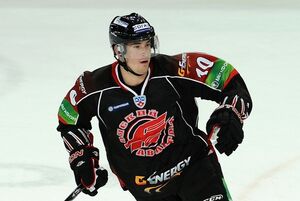 According to Ska's website, Roman Cervenka has signed a deal with the KHL team starting next season. Which means he won't be returning to the Flames or NA ice any time soon (read: ever).
When I discussed moving Cervenka at the deadline during the season, this was the primary reason – the high chance he wouldn't stick around after a rough go in the NHL. Cervenka was never a favorite of the coaching staff here in town, due to a lackluster two way game and low level of conditioning touched off by a blood condition at the start of the year.
The loss of Cervenka on the ice isn't a major one. He had some obvious offensive skill but his overall game was limited due to medicore skating and underwhelming defensive acumen. He projected more or less as supporting 3rd line scorer who would have to be sheltered to be effective.
There's a chance Cervenka may have eventually improved as he acclimated to NA hockey, but it's a better bet we're at his peak as a pro hockey player right now.
I maintain the move was a worthwhile experiment by Feaster and company, but was doomed to fail owing to a number of circumstances, some that cropped up unexpectedly along the way. It's too bad the club couldn't covert him into something worthwhile before he fled back across the pond though.
Anyways, here is the google translation of the linked article:
SKA has signed a contract with the striker "Calgary" Roman Cervenka. In the CHL rights owned by Czech striker HC "Lion."
In Prague SKA team moved forward Teemu Ramstedt, as "Lion" has the right to a defense attorney Michal Jordan, selected in the fourth round draft pick in 2009. Roman Cervenka – a graduate of the Prague "Slavia", for which he played for 10 seasons.
In 2010, the striker moved to the "Vanguard" and became the top scorer in the CHL, scoring 31 washer. For three consecutive seasons Cervenka scored more than one point per game. Forward leading scorer in the Czech championship and participated twice in the NHL All-Star Game. In 2009, the new SKA won gold medals in the World Cup in the Czech national team, and the following year won the bronze medal tournament.
This season in the "Lion" and "Calgary" Roman Cervenka spent 44 games and scored 20 (10 +10) points. Agreement with the Czech hockey player designed for three years. SKA forward to join the team after the holiday.
(obviously some things are lost in translation there. Point is, they've signed him).