Much
has been discussed the past couple of weeks about who stays and who goes on
March 2nd, but let's take a look at the Adirondack players ready to
hop a flight to YYC and never go back.
Let
me start with a disclaimer. First, these are the players I see as the most fit
to become full-time NHLers post-deadline. These are not temporary call-up options or players deserving of a cup of
coffee for solid play. Secondly, for all we know some of these players could no
longer be Flames on Monday, but I'm listing them anyways in the event that
they're still in organization.
So,
without further ado, here are the top five AHL prospects that are ready for the
"Big Call":
1. DREW SHORE
GM
Brad Treliving knew what he got when he acquired Shore in early January – a Corsi Freak (albeit, a
small sample size). In his rookie season with the Florida Panthers, Shore played
43 games and amassed an outstanding 55.5 CF%. In his next season, he played 24
games and had a 51.2 CF%. In the linked article, the author also demonstrates
Shore's ability to drive possession for his teammates. Of the players he's
played 100 or more minutes alongside, if you exclude Filip Kuba, Shore
increased their CF% by seven points.
Yeah,
the kid's pretty darn good. Plus, he's a right handed center to boot – an asset
the Flames certainly lack on the depth chart.
While
Shore's size is no doubt a plus, it's his exceptional hand skills and vision
that allow him play keep away so well. After watching his first 10 games with
Adirondack, it's not hard to see why his Corsi numbers are so great. His
ability to cycle the puck below the goal line is a sight to see, and it's not
like he's doing it against weak competition either. He's constantly being stacked
up against the opponent's best defensive pairing.
Unfortunately,
the center position is the least likely to take a hit at the deadline, so
seeing Shore in Calgary again may not happen right away, but that doesn't mean
he's not the most NHL-ready player in Adirondack.
2. TYLER WOTHERSPOON
Outside
of Drew Shore, Wotherspoon is the most NHL-ready player in Glens Falls, without
a doubt. Similar to last season, Spoon® started the year on a fairly average
note, not standing out in any one particular area. However, also similar to
last year, he's become a bulwark in the New Year.
His
progression since last season is astounding. He still plays the same freakishly
air-tight defense he has since Junior, but has added an interesting couple of
elements to his repertoire. The first thing you notice when watching this year's
version of Wotherspoon is he's become a good gambler. He takes calculated
chances. Last season, if there was an opportunity to get to a puck before an
opposing forward, he'd back off and play it safe like a good ol' defensive
defenseman would. This season, he's a little more apt to take his chances and
try and get to the puck before that forward. More often than not, it works.
Another
difference in his play is he's added a pinch of offense. Most of the season he's
played on the second unit PP and has developed a cannon of a shot. In today's
NHL where dynamic defenders are the first choice for coaches, that only helps
his chances of becoming more than a bottom pairing guy.
However,
unless a miracle happens (or an injury), I just don't see Wotherspoon sticking
permanently for the remainder of the season. Treliving noted specifically that
they're looking
to add to the blueline on Deadline day, so that doesn't bode well for
Wotherspoon's promotion. Still, if I'm Treliving, I'd take a serious look at
him before re-signing Diaz in the offseason.
3. JONI ORTIO

When
Turkubot 2.0 had to be helped off the ice last week, I sat in front of my
laptop in a similar manner that Doctor Claw from Inspector Gadget sits in front
of his monitor. The anger I felt towards Oilers' prospect Bogdan Yakimov was
similar to Doctor Claw's anger towards Inspector Gadget. In case you missed it,
6'5" 232lb Yakimov ran over Ortio, which is why he's in the infirmary for 6-8
weeks.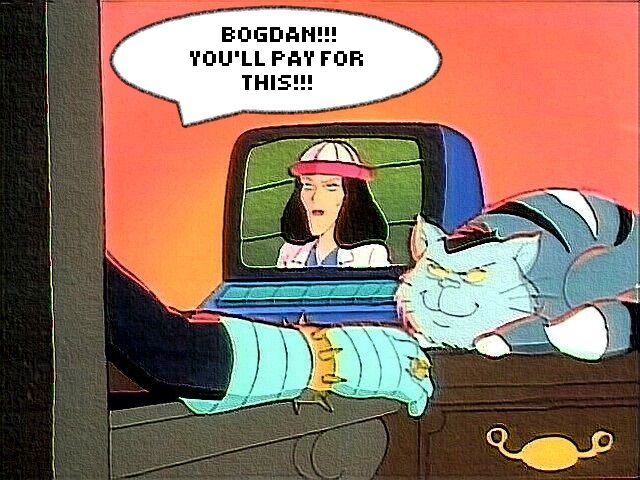 This,
without a doubt, spoiled any plans Brad Treliving had for trading Karri Ramo.
However,
the fact remains that Joni is NHL-ready. We saw it this season when he went on
that incredible (not to mention critical) Pacific division winning streak the
Flames had not long ago. What more can be said about him? If it weren't for
Ortio, the Adirondack Flames would be in a much much worse place in the
standings than they already are. Ortio can steal games, which is what you need
a goalie to do in today's NHL.
If
it weren't for this sudden injury, there's no doubt in my mind that Ortio would
be a permanent fixture behind Hiller after the deadline. Most of us expected
him to become the Flames backup next season, but I believe he was on pace to be there next week
permanently.
4. SVEN BAERTSCHI
Ah,
our old friend Sven.
Baertschi
is the same Baertschi he's always been, which is both a gift and a curse.
On
the one hand, Sven has looked 'okay' this season in Adirondack. He has his
games where he's been invisible, but he also has those games where you know he'll be a guy that will bite the
Flames in the ass if they trade him. Troy Ward always noted that for some
players, it's easier for them in the NHL because it's more calculated and not
nearly as sloven as the AHL. Sven is one of these players, which is why he appears
to use the right side of his brain more often in the NHL. In his short time in
Calgary this season, he's looked like the type of player he's been asked to be –
energetic, defensively engaged, and, *sigh* truculent.
Now
for the unfortunate side of Sven Baertschi. I have spoken to him on several
occasions and have never once gotten the impression that he feels sorry for
himself or pouts. This is a commonly held misconception about the 22-year-old. But
he is his own worst enemy. He's extremely hard on himself when the stars don't align,
which is more often than anyone would like.
It's
also unfortunate he can't be effective unless he's paired with players of a
similar skill set. This is a hurdle that he's going to have to overcome because
unless you're Johnny Hockey, you'll have to start at the bottom and work your
way up. It's probably his most lamentable attribute because Hartley's not going
to play him with better players unless he can show something on the bottom
lines. Quite the catch-22.
5. EMILE POIRIER
Here's
what you should do right now. Sit
back in your chair, take a deep breath and just smile because Emile Poirier is
property of the Calgary Flames. Whether he's a full-time NHLer on March 2nd
or next season, he'll be a permanent fixture in the Dome and that thought alone
should give you a nice restful sleep at night.
Emile
Poirier is a Stephen Seagal movie on skates – not always the most visually
pleasing, but he's full of action.
We
all know about Poirier's speed. Outside of Paul Byron, he is the fastest man in
the organization. His skating is… unorthodox, to put it lightly, but his style
of play is everything the Calgary Flames are building themselves to be in a
nutshell. He's a ridiculously skilled shooter, he never takes a shift off let
alone an entire game, he'll grind it out if the game calls for it, and he's
more often than not one of the biggest pests on the team. Lately, head coach
Ryan Huska has challenged the Montreal native to focus on the defensive aspects
of the game.
Like
many forwards who come out of the QMJHL, defense takes time to learn. And to be
fair, it did take Emile some time to learn it – like two months, maybe. Now, he
leads the team in plus/minus and is occasionally tasked with second unit PK
duties because of his game breaking speed.
If
a right winger is dealt on Monday, Poirier is certainly a candidate to fill in.
However, the more likely scenario is that Drew Shore plugs in on the right side
since he has some NHL experience playing on wing and is much less likely to
have his development impeded at such a pivotal part of the season.