What
would the end of a season be without some awards to hand out? And the level of
honour and prestige one gains from a blogger awarding them is often too much
for the ego to handle. The level of celebrity that is often attained upon
receiving these awards is what dreams are made of.
No,
I won't be handing out little die cast Esso-sponsored "Participation" medals
because this is serious! These are serious awards, okay!?!
Without
further ado, here are the first annual Scorch Awards™:
THE MICHAEL
FERLAND IRRELEVANCE AWARD
Lame
people might refer to this award under the traditional category of "MVP," but
to be a real MVP you have to be
irrelevant. Irrelevancy doesn't come from being irrelevant – it comes from hard
work, determination, skill, being an outstanding teammate and regularly
appearing on the #gritchart.
That's
why David Wolf truly was the most
irrelevant player for the Adirondack Flames this season. His adjustment to
North American hockey went smoother than a freshly opened jar of peanut butter,
but he plays rougher than a cat's tongue. Wolf truly is one of the
organization's best power forward prospects. It was a regular occurrence to see
him fend off two defenders while he stick-handled the puck with his wrist. That
was fun to watch.
His
prospects for playing in the NHL aren't actually that bad either. He has decent
enough speed to keep up (even though he skates like you'd imagine a newborn
rhino might skate); he's got more than enough physicality to have defensemen
mentally revert to a stage of infancy and enough skill to gather ten or so
goals during a season. The biggest knock against Wolf is his conditioning,
which was clearly observable in his short stint in Calgary where he was puffing
fumes shortly after the mid-point of the game. I expect him to be re-signed and
he'll get a nice long look during training camp next season.
THE "WHERE THE
HELL DID HE COME FROM?" AWARD
Otherwise
known in some circles as the Josh Jooris Award, this award is given to the
player who figuratively worked his way from the shack to the castle. From the Pinto
to the Tesla. From 40 thread count bed sheets to Egyptian cotton. No one stepped
on the scene quite like Garnet Hathaway
did this season.
And
what better way to award a spectacular 19 goal, 17 assist season like a brand
spankin' new entry-level deal and a FlamesNation Josh Jooris Award? Exactly!
Hathaway came into camp as the second fittest player next to Mark Giordano, was
one of the last cuts and made it mighty difficult for Brad Treliving to send
him down.
The
former
lobster salesman won't have to do that out of necessity anymore and will
certainly garner a long look in training camp in the Fall.
THE SCORCH
MEMORIAL AWARD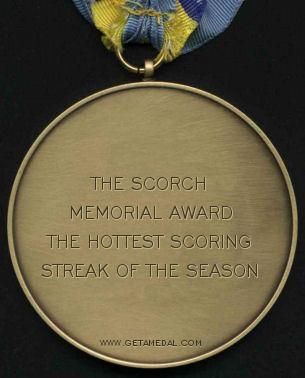 The
five day period from October 9, 2015 to October 14, 2015 was one of the
greatest points in Calgary Flames history; I don't care what anyone says.
During this time, we saw the rise and fall of our friend, our comrade, Scorch –
the biggest cult hero of our time.
In
his memory, the Scorch Memorial Award was created to recognize the player with
the hottest scoring streak of the season (i.e, didn't go more than a couple of
games without a point). There were a number of candidates for this award,
including Max Reinhart (3G, 9A in 8GP), David Wolf (8G, 3A in 7GP) and Turner
Elson (10G, 5A, 18GP). But one stood above the rest, stared down from the
mountain top and guffawed at their paltry hot streaks. That man was Kenny Agostino. In 29 games, the rookie
collected 11 goals and 20 assists to finish off the season just so he could
remind everyone that Jarome Iginla wasn't given away for nothing.
THE DASH AWARD
You
know, Dash, that boring, run-of-the-mill replacement mascot after Scorch was
extinguished. Although, to be fair, you could have had Butterbean himself as
the backup mascot and he would've paled in comparison to Scorchy.
Still,
as a Dalmatian – a firefighters best friend – Dash was an appropriate
replacement to help patch the supposedly inappropriate actions of the
Adirondack organization and fill in the hole left by Scorch's untimely demise. Thus,
the Dash Award is given to the player who best replaces the hole left by a
call-up or injury, and that player is The Wizard of Vause himself: Taylor Vause.
Vause
is everything the Abbotsford Heat lost when Paul Byron was permanently promoted.
He's quick, ruthless, skilled and fits on any line. He's a checker, grinder, mosquito
and skilled forward all in one. Once Corban Knight was traded and Bill Arnold
bunged up his shoulder, Vause stepped in seamlessly and found himself on the
roster more often than not for the remainder of the season.
Expect
him to be back next year in some capacity.
THE BRENT KRAHN
AWARD:
Folks,
I'm eating a nice feathery bowl of crow at the moment (it doesn't actually taste
too bad with pesto sauce!) because in
an earlier article I wrote of the enormous potential of goalie Doug Carr. I wasn't wrong. He did have potential;
it just didn't come to fruition as many had hoped.
The
Brent Krahn Award is a pretty undignified award because it goes to the most
promising net-minder who didn't pan out. This year, that award goes to ol' Dougy
(sorry Doug!). He had a rough season when he was given sporadic starts here and
there between Ortio's injury and Brad Thiessen's… bad games (really really bad games). Perhaps all he needs
is game-to-game consistency, but as the third-string goalie he wasn't going to
get it. Even though he's the first winner of the Brent Krahn Award, I'd like to
see the Flames retain him as their ECHL starter. Yeah, he's getting up there in
age – and he's moving out of that typical 'prospect' category – but it'd be a
prudent move to hang on to him. You never know.