2021 FlamesNation Prospect Rankings: #3 Jakob Pelletier
Photo credit:Mike Gould
Welcome to the podium.
Jakob Pelletier ranks third on our list out of the trio of first-rounders at the top. While all eight of our panellists placed Pelletier fourth or higher on their individual lists, he never appeared in the top spot on any ballot and only once ranked No. 2.
Nevertheless, Pelletier is a fascinating prospect who looks to have an outside shot at cracking the Flames' NHL lineup in his first season of professional hockey. He served as team captain for the QMJHL's Val-d'Or Foreurs in 2020–21, capturing the team's scoring title in both the regular season and the playoffs.
Even if Pelletier begins the 2021–22 season in the American Hockey League, he'll likely have the opportunity to skate alongside the likes of Connor Zary, Matthew Phillips, Adam Ruzicka, and Emilio Pettersen for the first time as part of what appears to be a strong Stockton Heat team. He's a crafty little winger who contributes at both ends and plays confidently with and without the puck.
---
Jakob Pelletier
Left-handed winger
Born Mar. 7, 2001 (age 20) in Quebec City, Quebec
5'10," 170 pounds
Drafted in the first round (26th overall) by CGY in 2019
The Flames drafted Pelletier after he scored 39 goals and 89 points in 65 QMJHL games with the Moncton Wildcats in 2018–19. Billed as a versatile, intelligent forward with a reliable motor, Pelletier was named the Wildcats' captain at age 18 when he returned for the 2019–20 season and proceeded to rank second among all draft-plus-one QMJHLers with 82 points in 57 games.
Moncton traded Pelletier to Val-d'Or during the 2020 off-season. Entering his final year of junior hockey, Pelletier started his tenure with his new club by being named team captain for the second consecutive season.
Pelletier continued driving play at both ends of the ice in 2020–21, leading the Foreurs with 43 points in 28 games and—according to
Pick224
—ranking fifth among QMJHL skaters (min. 15 GP) with a +19.51 on-ice relative goals-for percentage at 5-on-5. With Pelletier on the ice at even-strength, Val-d'Or scored 37 goals and allowed just 10; without him, the Foreurs outscored their opposition 45 to 31.
After scoring 22 points on the power play for Moncton in 2019–20 while operating primarily out of the slot, Pelletier was given a new assignment in Val-d'Or and seamlessly adapted. He continued generating most of his shots at even-strength from within a stone's throw of the crease but typically set up shop on the power play at the right circle, converting on an impressive 19.05% of his power-play opportunities with Val-d'Or.
Courtesy of Pick224, here's a look at Pelletier's offensive heat maps (both at even-strength and on the power play) over the last three seasons. Take a look at how dramatically his positioning with the extra man changed in 2020–21: Pelletier routinely opened up for opportunities on his opposite wing and was one of Val-d'Or's primary one-timer options on the power play.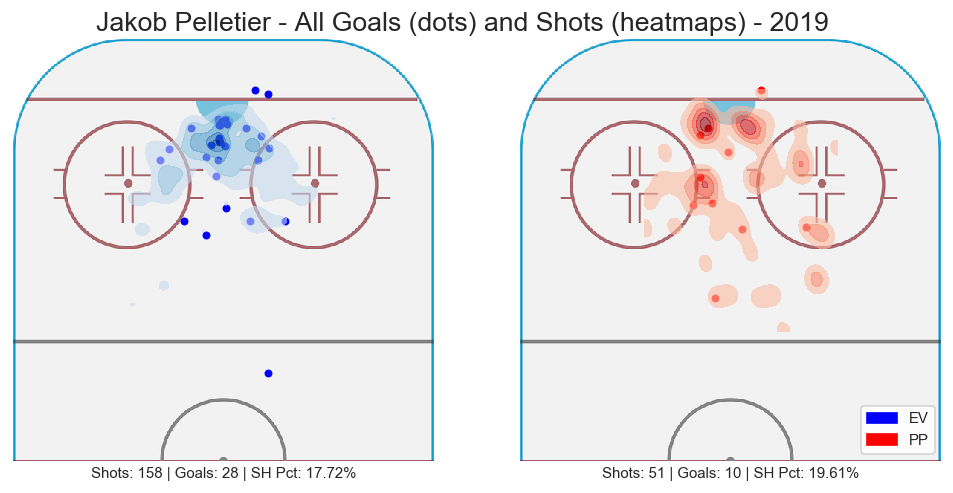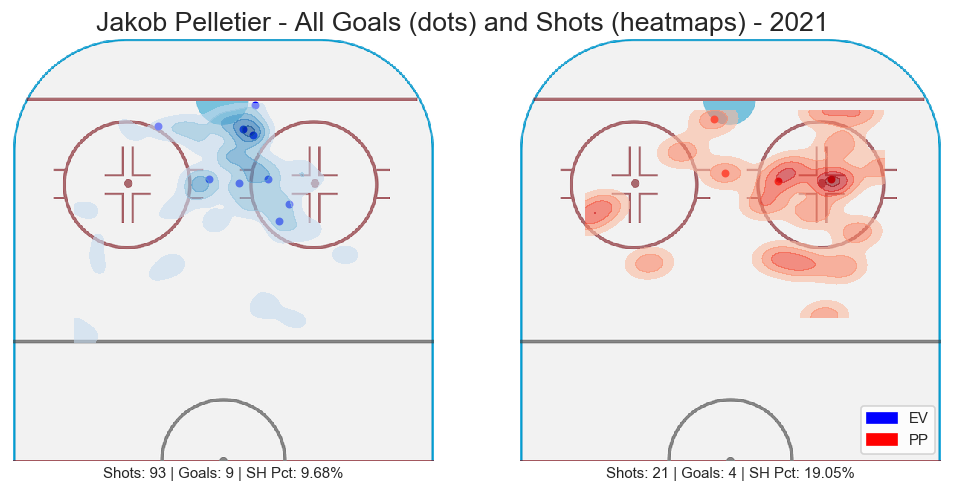 All heatmap graphics via Pick224.com.
Here's a compilation of Pelletier's highlights with Val-d'Or in the 2020–21 season. The first two clips feature Pelletier one-timing hard shots from the right side on the power play, with both attempts leading directly to goals.
While Pelletier remained a star in the QMJHL last season, he took a big step forward in the eyes of many onlookers with his performance in Edmonton at the 2021 IIHF World Junior Championship. He played up and down Canada's lineup, eventually landing on the first line with fellow first-round prospects Dylan Cozens and Connor McMichael en route to a silver medal finish. Pelletier ultimately ended up tied for 12th in tournament scoring—and fourth on Team Canada—with seven points (three goals, four assists) in seven games.
Jérôme Bérubé, head scout for HockeyProspect.com, described Pelletier to 
FlamesNation 
as "
the type of player every coach will love to have on their team."
Pelletier is a smart, competitive, versatile forward that projects to be able to play in a middle 6 role at the NHL level. He's not a high-end offensive forward as his QMJHL numbers might suggest but he's a hardworking forward with enough skills that he could fit well in an NHL lineup and play all kinds of different roles. He's always been a big performer in big games in his young career so far. Whether it was in midget, the QMJHL and international hockey he often came up big in important games. He's a gamer and he's the type of player you want to have on your team in big games like NHL playoffs, he should thrive in that environment. In the best-case scenario, you would like to see him improve his speed, his size/skating combo is not great but the rest of his game is solid and has great hockey sense which helps hide his average skating.
Expectations for 2021–22
Pelletier's time in the QMJHL is over. He'll join the Flames' professional ranks in 2021–22, starting either in the NHL with Calgary or with the Stockton Heat of the AHL.
If Pelletier begins the season in the AHL, his placement in Stockton's lineup will depend on who else ahead of him—if anyone—graduates to the Flames. Assuming Phillips, Luke Philp, Pettersen, Ruzicka, and Zary all remain with the Heat, Pelletier will likely be competing against Martin Pospisil, Dmitry Zavgorodniy, and Eetu Tuulola for the final spot in Stockton's top six.
Pelletier should receive ample time on special teams in 2021–22. He's capable of contributing on the power play and with the man-disadvantage, even if he doesn't immediately receive the highest-leverage deployments at 5-on-5.
A strong debut season for Pelletier could entail him scoring 30 to 40 points in approximately 60 AHL games while making the odd appearance in the Flames' lineup when needed. An impressive first year of professional hockey, split between the two leagues, could open the door for Pelletier to easily transition to the NHL on a full-time basis in 2022–23.
2021 FlamesNation Prospect Rankings